TESTIMONIALS
I have trained with Kirstin Kelly for nearly ten years now, since I came back to riding as an adult, after a long time away from horses.

I was jumping around 95cm – not very confidently and not very well – when I met Kirstin, and she coached me all the way to eventing successfully at two-star level, as well as show jumping at 1.20m, which was far beyond what I had ever thought was possible.

As I have never had the financial means to purchase well-trained, established schoolmasters or even straight-forward horses, Kirstin has helped me to achieve results with quirky mounts that other people had rejected as too difficult. She maintains a positive and encouraging approach, and has a huge range of tools and techniques to work with a variety of problems, from nutrition, fitness and behaviour issues as well as both dressage and jumping training.

Now that my top horse has retired, I have started from scratch with two younger horses, and Kirstin has been instrumental in producing them, and they have both had wins and placings in their respective grades.

In my capacity as editor of NZ Horse & Pony magazine, I have attended clinics and lessons with a large number of trainers, both local and international, and I believe there are very few who are close to Kirstin in terms of her ability as a coach. She knows exactly when to push riders, and when they need more gentle encouraging, and her energy and enthusiasm never seem to wane, no matter what level, age or ability of rider and horse.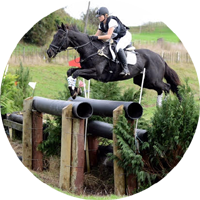 Kirstin Kelly has been my jumping trainer for a number of years (more than I want to count.)
She is always positive, and has the same degree of enthusiasm and encouragement, regardless of the level one is riding at. I have a big-moving, athletic warmblood horse that I bred – perhaps not the ideal mount for an amateur rider in her 60s - and when it was time for him to start his jumping career, Kirstin taught him from poles on the ground through to cross-country. Once he knew what to do, she then taught me how to do it with him.
It's always great fun with Kirstin. My horse and I returned from a two-year injury lay off last year (both of us were out of action) and started again over cross-poles, gradually working bad to eventing at 95cm level.
Kirstin makes no concession for my age; she just tries to help me ride with correct technique so that my horse can keep me happy and safe.
I always come away feeling positive from a lesson with Kirstin, and with the sense that if I can't do it perfectly now, I eventually will… maybe with just a bit more practice.